INITIAL PUBLIC OFFERING (IPO)
Reduce the costs and risks associated with filing your IPO.
Retain control and ensure safety throughout your IPO process with connected reporting. Our dedicated service team is ready to assist you with document creation, filing, printing, and distribution.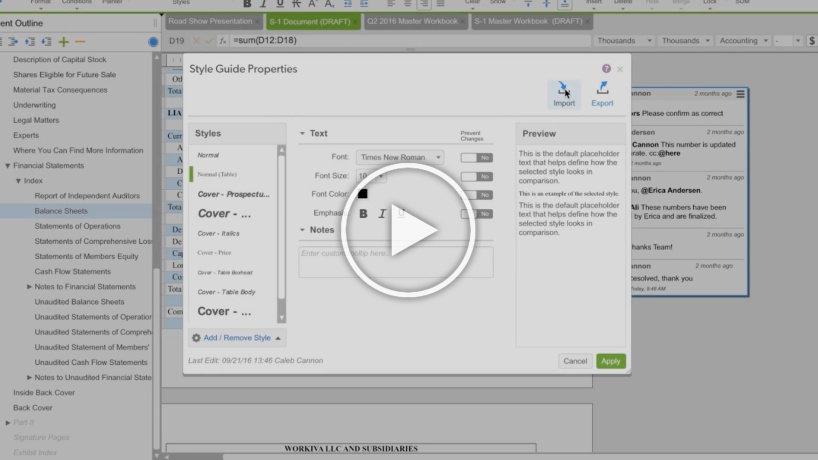 Reduce Draft Time, and Ensure Accuracy
Reduce draft time, and ensure accuracy
Avoid the back-and-forth, change fees, and late charges of financial printers. With Workiva, you always inspect the most up-to-date version for a faster, more precise review process.
Streamlined S-1 filing
Focus on presenting the value of your company as you prepare for your initial public offering. Reduce the amount of time spent administering changes, managing version control, editing narrative, and ticking and tying number changes. Have confidence that your numbers, tables, and graphs are consistent across the MD&A, IPO financials, and roadshow.
Trust the experts
Rely on the experienced Workiva Capital Markets Client Services team for 24/7 support during drafting, filing, printing, and distribution.
Control the IPO Draft, Review, and Filing Process
Control the IPO draft, review, and filing process
Stay in complete control of your confidential Form S-1 filing, SEC comments, amendments, and additional IPO documentation.
Controlled collaboration
Collaborate with the entire working group, including attorneys, advisors, and bankers, in a secure cloud environment. Enable flexible control with role-based permissions and detailed project access. Increase visibility over authorship and content history, ensuring confidence in the final product.
Reduce Risks Associated with the S-1 Filing Process
Reduce risks associated with the S-1 filing process
Connecting data and reports helps to eliminate inconsistent numbers, version control issues, and formatting errors.
Consistent, accurate content
Connected numbers and text ensure that when a number or text is changed, all related files are updated automatically. Utilize style guides in the prospectus, so advisors can review and make recommendations instead of reformatting changes.
Leverage Workiva for SEC Filings and SOX Compliance
Leverage Workiva for SEC filings and SOX compliance
Manage future compliance documentation within the same platform. Become SOX compliant, and connect risk and internal control information across the enterprise.
Future compliance within a single platform
Easily roll forward financial reporting documents while maintaining all links, so you never have to start from scratch again. Workiva supports multiple SEC/EDGAR reporting requirements, including more than 350 form types. Workiva also provides the leading solution for documentation, testing, and managing internal controls for SOX purposes.
Related Solutions
Find out what else you can do with Workiva.
If you're kicking off this process, look into Workiva. An IPO is an exciting process, but it's also challenging and time-consuming. The Workiva platform gets rid of a lot of the inefficiencies and stress so you can really focus on execution.
Amanda Baratz
Senior Counsel
Snowflake Inc.
More ways to get the most from our platform
Find your next favorite thing.
Check out the Workiva Marketplace for easy-to-use templates, connectors, and services that make getting started a snap.