Ebook
What is GRC?
The Complete Guide to Governance, Risk, and Compliance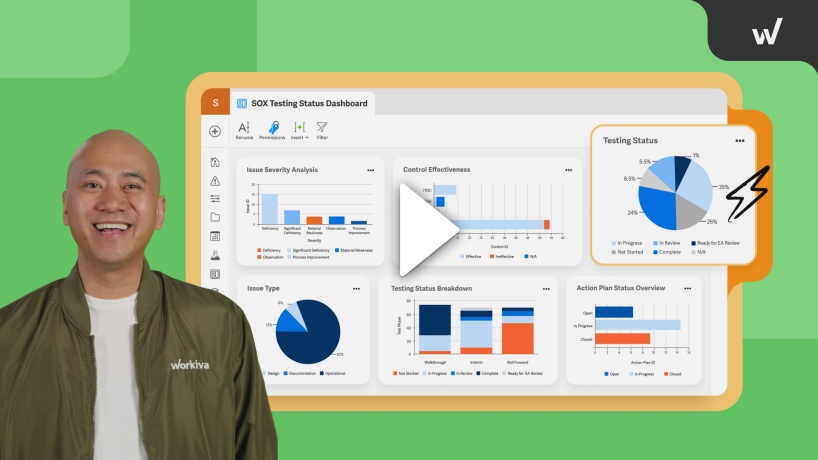 In this guide
If you're here, you might be learning about governance, risk, and compliance (GRC) for the first time or wondering the best way your organization can use GRC to address an increasingly complex and ever-changing business climate.

This introductory guide will cover everything from the definition of GRC and its history to frameworks and technology. We hope you walk away with the information you're looking for to either jump-start or mature your organization's GRC program. Let's get to it and answer the question, "what is GRC?"
GRC meaning & definition
What does GRC stand for?
What does GRC stand for?
The acronym GRC stands for governance, risk, and compliance. It was coined by OCEG and officially introduced in 2007 when Scott Mitchell, OCEG's founder, was published in the International Journal of Disclosure and Governance with the first peer-reviewed academic paper on it. While only formalized in 2007, the concept of GRC has been around for a long time. Organizations have understood the importance of governance and teams have created risk management and compliance management programs as a part of their business strategies for years.
What is Principled Performance?
What is Principled Performance?
When OCEG created GRC, the focus was on providing organizations a way to better align so they could mature and strengthen processes and boost business performance. Ultimately, the goal of GRC is to achieve Principled Performance—an approach that helps organizations reliably meet objectives, address uncertainty, and act with integrity. To help GRC professionals reach Principled Performance, OCEG developed the GRC Capability ModelTM. This model is an open source standard that integrates various disciplines of GRC and helps teams improve capabilities.
All in all, GRC is about empowering stakeholders to make informed decisions. This strategic focus on maturing GRC and integrating all three practices of governance, risk, and compliance has become increasingly important as risks continue to rise, introducing more uncertainty and complexity.
Okay so—what is GRC?
Governance, risk, and compliance is a structured approach that helps organizations meet industry and government regulations, manage risks, and achieve business objectives. A comprehensive GRC strategy involves a combination of people, processes, and technology. Ultimately, effective GRC management helps organizations break down silos, operate more efficiently, and enable leaders to take action faster.

Let's dive into the goal of each GRC practice area:
Governance
Unite teams and align processes to achieve organizational objectives
Risk
Identify, address, and mitigate risks across the enterprise (barriers to achieving your objectives)
Compliance
Meet global and local regulatory requirements
Benefits of GRC implementation
When done correctly, organizations see several benefits from GRC implementation, including reduced costs, less duplicate work, greater visibility into risks, increased data accuracy and consistency, and more alignment across stakeholders.
Compliance vs. governance
While we discussed the goal of each GRC practice area, it can still be difficult to differentiate between the three. When it comes to compliance and governance, there are certainly commonalities, but the major difference is that governance has a broader, long-term outlook.
Governance focuses on the long-term strategy to drive business results and protect stakeholders while compliance is focused on keeping up with existing and new regulations, which could include meeting annual or more frequent requirements.
Think of governance as the overarching way a company approaches risk, ethics, and business practices. Compliance, on the other hand, is the day-to-day, practical approach companies take to meet regulatory requirements and applicable laws.
Compliance vs. risk management
And what about compliance vs. risk management? While also closely aligned, there are notable differences. Risk management focuses on identifying, assessing, and mitigating risks that pose a threat to an organization, which could include risks stemming from non-compliance with laws and regulations. Compliance, and any compliance process, focuses on meeting established regulations, which can help organizations avoid certain risks.
Though compliance is sometimes thought of as a checklist of items to meet requirements, audit and risk professionals can add greater value to their organizations by tackling compliance from a strategic perspective—they can identify opportunities to reduce the effort and cost to comply or provide insights that can streamline operations and improve profitability. When teams use their creative and problem-solving skills, they can add value and help their organizations navigate regulatory compliance in a complex landscape.
What is a GRC framework?
Now that we've covered the definition of GRC and how it can help organizations drive better business results, let's discuss what a GRC framework is and how your organization can use one.
A GRC framework is a model to manage governance, risk, and compliance processes at an organization. A framework can help guide organizations in establishing the proper policies and procedures to minimize potential risk and ultimately meet goals. A few of the frameworks commonly used in GRC are COSO, COBIT, and ISO 27001.
GRC teams and skills
While most organizations don't have a single dedicated GRC team in place, multiple stakeholders across several departments practice in these three areas. It involves cross-collaboration between multiple teams, including the board of directors, executive management, internal audit, risk, finance, legal, IT, security, compliance, strategy, HR, and many more. 
The teams involved depends on the size and structure of your organization, but having alignment across teams is key to creating a successful GRC program. Regardless of who contributes to GRC at your organization, eliminating silos and enabling real-time collaboration is essential to stay ahead of risk in today's complex and rapidly changing environment.
Many people ask what skills are necessary to be an effective GRC professional. While a generally broad question, there are several attributes that can help an individual be successful in role supporting GRC:
Integrity—Demonstrate professionalism in their work and behavior
Inquisitiveness—Ask why to understand root cause of issues
Critical thinking and problem-solving mentality—Develop and discover cost-effective and enduring solutions to issues
Collaborative—Work across disciplines and departments to be effective
Committed—Tackle challenging situations to identify and manage risks for their organization
GRC tools and technology
Technology plays a critical role in any organization looking to establish a robust GRC program. Many organizations look for a GRC tool or platform to help them more efficiently manage GRC processes by connecting teams, automating repetitive tasks, and bringing more visibility to project and task status as well as identified risks. 
While there are a lot of technologies out there that can help your team, it's important to remember that standalone GRC software or tools may not fully support an integrated GRC program or keep up with your business as you grow or scale. That's why many companies choose a comprehensive solution like an enterprise GRC platform that can support multiple areas of a GRC program.
So what is a GRC platform? It provides a single place for teams to work together to improve processes, increase efficiency, and reliably achieve business goals. Robust platforms provide a holistic view of risk, compliance, and governance and enable stakeholders to access the information they need to quickly align and take action when new issues or a potential risk arises.
There are several types of tasks, projects, and dashboards that GRC platforms support. Here are a few ways most organizations use a GRC platform:
Enterprise risk management
IT risk management
Third-party risk management
Audit management
Policy and procedure management
Risk and control management
Compliance requirement reports, risk reports, and data visualization
You might be wondering what GRC tool, GRC system, or GRC platform is the best. With so many options, where do you even begin evaluating GRC technology to help you on your journey? As risks rise, regulations evolve, and organizational complexity increases, finding the right GRC solution to streamline and automate GRC processes can be challenging.
Here are some considerations to keep in mind as you evaluate GRC technologies:
Does it have customizable, real-time dashboards to increase transparency for stakeholders and help them quickly pinpoint what they should focus their efforts on?
Can you add unlimited users to make sure everyone, even authorized external parties, have access to the information they need?
Are you able to update permissions by role or per user and assign the appropriate level of access?
Can you customize reports to share information to your audience in a way that is meaningful and actionable?
Are you able to automate workflows, policy compliance and reviews, or changes to GRC data?
Is everyone, regardless of where they are located globally, able to work together on documents and processes at the same time in real time?
Can you connect to vital applications and systems like your financial data and ERP via automated connections or APIs?
Is it user friendly, requiring little to no training to get started?
Is it flexible enough to adapt as your business process, workflow, and reporting needs change?
Do you have a dedicated account manager and/or support team you can reach out to for help?
While there are many other considerations, this is a good starting place as you look for the right GRC technology. To be agile and stay ahead of risk, organizations are turning to modern, connected GRC platforms that adapt with their processes.
Workiva Established as a Leader in the Forrester Wave™
If you're looking to learn more about what GRC platform might be best for your company, check out The Forrester Wave™: Governance, Risk, and Compliance Platforms, Q3 2021. The Forrester report measures, ranks, and summarizes how each identified provider ranks against 25 criteria based on how well they satisfy the current and future needs of audit, risk, and compliance professionals.
Why does GRC matter for ESG?
It's likely your organization has started thinking about ESG reporting or already has an ESG program in place. Given evolving regulations across the globe, including the Corporate Sustainability Reporting Directive (CSRD), many organizations are looking to streamline assurance over financial and non-financial reporting.
To help organizations meet ESG goals, one of the most critical things to think about is governance over ESG. This might be a bit confusing since there is already a "G" in ESG, but this is centered around establishing program governance over your ESG strategy. For example, here are some questions you should consider:
Who should be involved with your ESG program?
How will your organization define policies?
What will your process look like to set ESG targets?
Do you have the right roles, responsibilities, organizational structure, and processes in place to support ESG and manage associated risks?
How will stakeholders communicate regularly to measure progress toward ESG goals?
If your organization needs to comply with the CSRD, how will you prepare for the new requirements?
In addition, internal audit teams will play a crucial role in ensuring the integrity of their organization's ESG program. ESG encompasses a broad group of risks, making it challenging to pinpoint where to start. Here are a few areas for teams to consider as you kick off your ESG internal audit initiative:
Familiarize yourself with the ESG risks that are most prevalent in your industry
Understand your organization's current ESG posture
Include ESG risks in your entity-wide internal audit risk assessment
Audit the completeness and accuracy of the metrics and the underlying data in any existing ESG report your organization creates
Determine what regulations or standards apply to your organization
Apply practices developed from internal controls over financial reporting (ICFR) to internal controls over sustainability reporting (ICSR)
Use COSO's guidance and ICIF-2013 framework, which is applicable to ICSR, as a starting point to design, implement, and maintain a system of controls
The intersection of ESG and GRC
If you want more information on ESG and GRC, OCEG developed an infographic series to help organizations understand how they can apply the GRC Capability Model™* to integrate ESG risks into overall risk management plans. Download the intersection of ESG and GRC infographics to learn how you can take an ESG-minded approach to each of the four components of the GRC Capability Model.
What is the role of GRC in financial reporting?
What is the role of GRC in financial reporting?
GRC professionals across the world have a major role in financial reporting. With Sarbanes-Oxley (SOX) in the U.S. and other global and local regulations, establishing robust internal controls over financial reporting (ICFR) is crucial for teams to provide assurance over financial statements.
To streamline SOX and maximize ICFR efficiency, many teams use a connected GRC platform to unite teams, centralize internal control processes, establish a single source of truth, and automate repetitive audit tasks.
What is the role of GRC in cybersecurity?
What is the role of GRC in cybersecurity?
Cybersecurity is a risk that is pervasive across the entire organization. Virtual and hybrid working models have introduced new cyber risks that may have not been fully addressed previously. This could expose your organization to cyber threats and potential breaches.
Given the increase in hacks, security issues, and potential threats, GRC plays a huge role in cybersecurity. From keeping up with expanding regulations like the new SEC cybersecurity rule to mitigating risks and spreading internal awareness, having the right GRC process in place will help protect your investors, employees, and organization.
According to IBM, the global average total cost of a data breach is $4.35 million—and $9.44 million in the U.S. It's no wonder cybersecurity is an increasing concern for organizations. In fact, a recent study revealed that 78% of internal audit leaders ranked cybersecurity as a high or very high risk in their organizations.
Another aspect of cybersecurity that isn't always considered right away is the critical role cybersecurity plays in ESG. Cybersecurity is a key element of a good governance structure and is also foundational for an effective data privacy program.
In conclusion
As you can see, there are a variety of ways you can tackle your GRC strategy and increase your organization's GRC maturity. It all comes down to what's most important to your business. Having flexibility to adapt and make changes is crucial to effective GRC management.
*The GRC Capability Model is a trademark of the OCEG in the United States and/or other countries.
Elevate your enterprise GRC strategy
Discover how audit, risk, and compliance teams are bringing stakeholders together, increasing visibility across all processes, and building risk resilience with the leading GRC platform. You can also browse our GRC resource hub and sign up to receive our monthly newsletter to get the latest tips and tricks.