Ebook
An Introduction to the CSRD
To many, the Corporate Sustainability Reporting Directive will be a game changer in ESG reporting. But what is it, who will it affect, and when does it come into force? This introductory guide breaks it all down.
What is the CSRD?
The Corporate Sustainability Reporting Directive (CSRD), sets out environmental, social and governance (ESG) reporting requirements for companies and aims to significantly expand the scope of the NFRD, both in terms of who needs to report and what needs to be reported.
First proposed in April 2021, this new European Union (EU) legislation developed by the European Financial Reporting Advisory Group (EFRAG) will gradually be coming into play over the next few years. It expands upon, and will replace, the Non-Financial Reporting Directive (NFRD), which has been in force since 2018.
What are the new CSRD requirements?
The new CSRD requirements introduce mandatory corporate sustainability reporting standards and the integration of ESG information in management and annual reports. This means mandatory assurance audits and digital tagging of information by the financial reporting team.
What is the scope of the CSRD?
All large companies(1) and all companies listed on regulated markets (except micro-enterprises) must comply with CSRD reporting requirements.
When is the CSRD mandated by?
The Corporate Sustainability Reporting Directive officially entered into force on 5 January 2023. A gradual rollout with the first companies due to file will occur in Q1 2025 (applies to FY 2024).
Frequently Asked CSRD Questions
The CSRD will affect all EU-based companies who have:
A net turnover of €40 million or more
At least €20 million in assets
250+ employees
All listed companies (with the exception of micro-enterprises) will also be affected.
The CSRD, having a considerably larger reach than the NFRD, (up from 11,000 to around 50,000) also impacts non-EU companies who have with EU-based subsidiaries, or who have securities on EU-regulated markets, are also required to comply with the CSRD. This means, for example, that a UK or US-based multi-entity corporation with a single subsidiary in the EU will need to report in line with CSRD regulations, even if all their other subsidiaries are outside of the EU.
The European Sustainability Reporting Standards (ESRS) are standards being brought in by the CSRD to provide the specific requirements that companies will need to follow in their reporting practices.
In November 2022, EFRAG published the first set of draft ESRS, covering 12 standards. These cover:
General: 1- General requirements, 2- General disclosures
Environmental: E1 - Climate Change, E2 - Pollution, E3 - Water and Marine Resources, E4 - Biodiversity and Ecosystems, E5 - Resource Use and Circular Economy
Social: S1 - Own Workforce, S2- Workers in the value chain, S3 - Affected communities, S4 - Consumers and end users
Governance: G1 - Business Conduct
While reporting in line with E2 - General disclosures and E1 - Climate change is required for all companies in scope of the CSRD, not all of these are mandatory for every company. EFRAG and the ESRS provide detailed information on who needs to follow which specific reporting standards.
The CSRD aims to establish a shared framework for reporting non-financial data. The idea is that by enforcing thorough, robust, standardized reports, everyone— from policymakers and investors to clients and consumers—can make informed decisions on a company's ESG performance.
The EU has long believed that investors and consumers are entitled to understand the ESG impact of businesses in a clear, easily comparable manner. Though existing regulations (such as the NFRD) provided a step in this direction, the consensus was that they weren't sufficient.
Investors found that many ESG reports omitted important or useful information, used differing metrics, and had different areas of focus, making it difficult to trust the data or benchmark companies against one another. As the EU found, this can have a knock-on effect on sustainable investment, one of its key areas of focus.
One of the major aims of the CSRD is to bring together the 'E', 'S', and 'G' of ESG reporting in a more cohesive and coherent manner. Companies will need to disclose information concerning:
The environment
Treatment of staff and approach to social matters
Human rights
Anti-bribery and corruption
Board diversity
When will the CSRD come into force?
When will the CSRD come into force?
The text of the CSRD was passed following a landslide vote in the European Parliament in November 2022 and officially entered into force in the EU in early January 2023. From this date, member states have 18 months to transpose the new standards into national law.
Each member state has its own history of regulations regarding environmental, social, and governance (ESG) reporting and is likely to implement the new requirements in its own way.
The CSRD will then be phased in from:
FY'24: For all organizations that are already within the existing scope of the NFRD (currently around 11,700 organizations)
FY'25: All "large" organizations—firms with a net turnover of €40 million or more, at least €20 million in assets, and 250+ employees
Later: All listed companies, including listed small and medium-sized enterprises (SMEs) but with the exception of micro-enterprises
What will the CSRD reporting requirements entail?
What will the reporting requirements entail?
Here are some of the regulation's stand-out features:
Double materiality: Organizations will need to disclose the company's impact on social and environmental issues, known as double materiality, and how these issues will likely affect the business in the future.
Looking both ahead and back: Companies will be required to furnish both retrospective and forward-looking analyses. This will mean sharing quantitative information (such as measured impact to date) and qualitative information (such as targets, strategy, and risk assessment).
Stricter rules around climate-related disclosures: Most notably, the CSRD will call for disclosure of Scope 3 emissions. These are the indirect CO2 emissions produced by all other companies connected to the organization throughout the entire supply chain.
Enforced audits: For the first time, all corporate sustainability reporting information must pass through an audit process to verify accuracy before publication.
How will CSRD reports be presented?
How will CSRD reports be presented?
Companies will be expected to provide all CSRD-related information in either their annual or management reports. This is to ensure that financial and ESG information is published at the same time and considered as a whole, rather than two separate entities.
In line with ESEF regulations, all sustainability information will need to be provided in xHTML format for standardization and easier verification.
How does the CSRD fit in with other legislations?
How does the CSRD fit in with other legislations?
With so many different mandates and legislations, it can be challenging to grasp how they all fit in with one another. As mentioned previously, the CSRD and ESRS will expand upon and replace the Non-Financial Reporting Directive (NFRD).
The mandate will also, however, incorporate existing EU regulations, most notably:
The Sustainable Finance Disclosure Regulation (SFDR), which sets out ESG disclosure obligations for financial market participants
The EU Taxonomy, which is a classification system of environmentally sustainable economic activities
The CSRD, the SFDR, and the EU Taxonomy all work together to help promote sustainable investments. By bringing them together in a single bundle, the aim is to align requirements, help reduce complexity, and avoid the risk of duplicating reporting requirements.
What are the challenges of CSRD disclosure?
What are the challenges of CSRD disclosure?
Because the CSRD requirements are far more detailed than those of the NFRD, companies will need to gather vast amounts of ESG data, which all need to be accurate and verifiable. Scope 3 emissions—which extend beyond a company's direct CO2 output and look at everything from up and downstream transportation and distribution, to the use of sold products—are particularly difficult to track.
Companies already reporting under the NFRD will therefore have a steep learning curve to tackle, while those needing to produce their first ESG report under the CSRD face an even bigger challenge.
Importantly, the CSRD is being incorporated into national law throughout the EU. Depending on how stringent individual countries choose to be regarding enforcement, non-compliance could lead to penalties or prosecution, potentially posing a serious business risk for organizations.
Executive Summary: A Snapshot of the CSRD
This guide distills key information about the mandate and how it will impact your organization.
What else should I know?
The CSRD will be granting individual Member States the opportunity to open the market to 'independent assurance services providers'. Countries that choose to take this option would allow assurance firms as well as auditors to verify the corporate sustainability reporting information provided.

In the future, smaller organizations will also need to report in accordance with the CSRD. Modified regulations tailored for SMEs will be published, and those listed on a regulated market will need to start reporting from 2028.
All hands on deck
The CSRD is a substantial step up from previous ESG reporting standards. To meet these high CSRD standards, your company will need full engagement from all stakeholders, particularly C-level executives and the board of directors. More than putting together a report, the CSRD requires a clear vision and goal setting.
Prepare now
Now that we know exactly what the CSRD entails, it's time to make the necessary decisions to ensure that your organization complies with the mandate.
Remain agile
As the reporting landscape develops, it's important to assess the processes and tools that underpin daily operations throughout the organization. Do you have access to all the data your organization may need to report on? How is it being gathered? Is it secure, verifiable, and connected? Having these building blocks in place (with the help of the right technology and processes) will prepare you for any upcoming CSRD reporting requirements.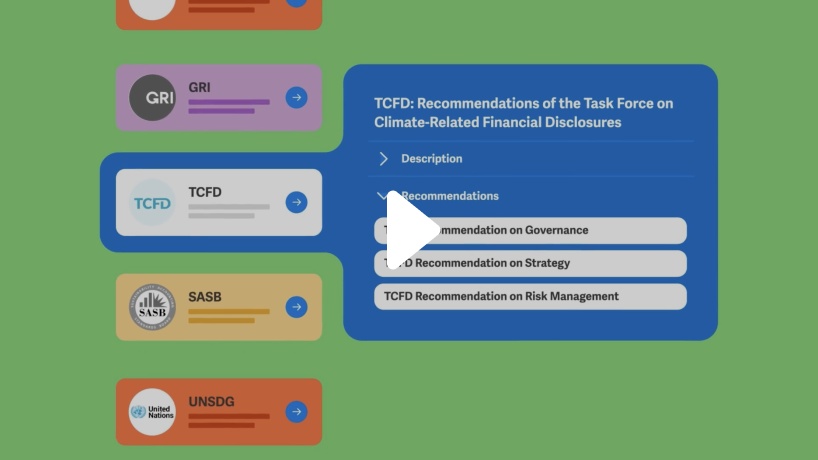 More ESG and CSRD Resources
Our ESG solution has all CSRD reporting requirements built into the platform, which we continually optimize to enable its seamless integration within the reporting process. To help you stay ahead of evolving policies and legislation, our platform connects data across your entire organization and existing systems, all while maintaining control and mitigating risk.
The CSRD: Breaking Down the Walls Between ESG and Finance
ESG Reporting 101: What You Need To Know
CSRD Debrief: Who's Impacted and How to Prepare
Learn how Workiva can help you on your sustainability journey
To help you stay ahead of evolving legislations, our platform connects data across your entire organisation and existing systems, all while maintaining control and mitigating risk. By empowering you to trust your data and report in a transparent and verifiable manner, Workiva enables you to go beyond compliance and focus on communicating—and achieving—your company's goals.
ESG Software
Our ESG solution has all CSRD reporting requirements built into the platform, which we continually optimise to enable its seamless integration within the reporting process.
ESG Demo Video
Workiva stands out from other ESG reporting tools by fostering collaboration among various teams and intelligently integrating data to ensure transparency throughout the entire reporting process.