HIGHER EDUCATION
Collect and combine university data accurately, every time.
Improve efficiency with connected, continuous reporting in the cloud.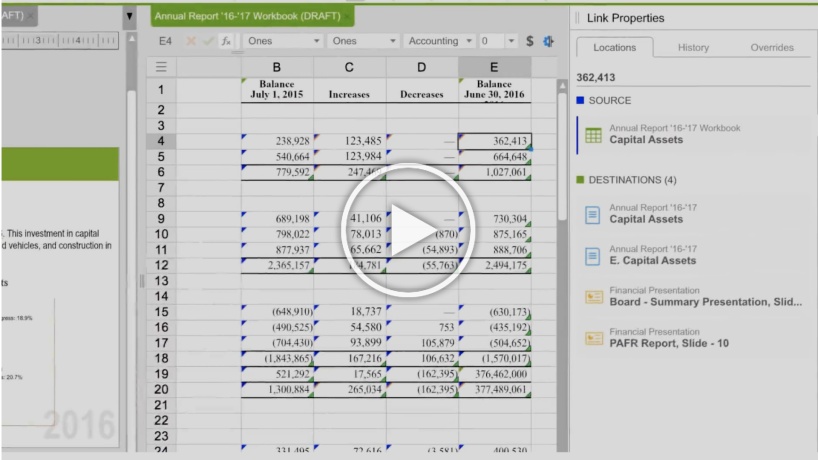 Transform budgeting and financial reporting for colleges and universities
Transform budgeting and financial reporting for colleges and universities
Streamline the process of creating Comprehensive Annual Financial Reports (CAFRs) or Annual Financial Reports (AFRs), performance reports, budget books, Title IX compliance reports, and board reports.
Timely reporting and decisions
Simplify the process of collecting, verifying, and preparing data from multiple systems to deliver accurate, actionable reports again and again.
Extract more value from your data by automating data collection from source systems. Save time and eliminate errors with connected numbers and narrative across reports that update immediately as changes are made.
A full audit trail and blacklines help you easily track revisions, whether you are working on budget preparation, monthly progress reports, or ad hoc presentations for trustees.
Enable integrated risk management
Enable integrated risk management
Collaborate across the three lines of defense, from operational management to risk management to audit.
A nimble, transparent approach
Manage ERM dashboards, controls, and internal audit processes more efficiently. Controlled collaboration means internal and external partners no longer have to wait their turns to start working on their sections of a project.
Built-in tasking cuts down on email clutter, and an audit trail provides a complete record of edits, comments, responses, and resolutions. As your institution updates its policies and procedures, teams can document the what, when, and why of each change with complete transparency.
Simplify procurement with a GSA-authorized vendor
Simplify procurement with a GSA-authorized vendor
Workiva provides secure reporting, compliance, and data collaboration solutions with an established procurement process through the U.S. General Services Administration (GSA) if needed.
GSA pricing
Public universities can take advantage of Workiva GSA pricing. Workiva offers GSA pricing through our government software distributor, Vertosoft.
Find the GSA contract on gsaadvantage.gov
GSA Contract # GS-35F-688GA for contract period September 19, 2017, through September 18, 2022
Please email us with any questions
Automate the certification process
Automate the certification process
Meet deadlines and improve compliance. Establish a connected, repeatable process that is efficient, timely, and transparent.
Customize certifications to your company's or agency's workflow and deadlines
Personalize views for stakeholders to receive and validate controls and sign letters
Leverage letter templates, schedule reminders, and increase process visibility with robust tracking
Empower signers and approvers to review, attach support, and sign off from any device
Related Solutions
Find out what else you can do with Workiva.
Thousands of organizations are transforming the way they work.
With Wdesk, all of our control information is in one place and is secure. It isn't in Excel, Word, and PowerPoint files distributed all over the place.
Rex Roberts
Senior Business Director of Business Process Controls
2U, Inc.
More ways to get the most from our platform.
Infographic
Maintaining a Positive, Productive Work-From-Home Environment
In a recent webinar, Workiva experts discussed how working from home during COVID-19 can negatively—and positively—influence company culture, productivity, and risk management. Check out this infographic for the highlights of their conversation.
Find your next favorite thing.
Check out the Workiva Marketplace for easy-to-use templates, connectors, and services that make getting started a snap.