Technology partner
Sentieo's AI-powered Document Search (DocSearch) is the fastest and most powerful way to search through millions of SEC filings and presentations. Sentieo uses natural language processing and advanced linguistic search algorithms to help preparers go beyond the basic search to get the insights others miss in their disclosure narratives. With Sentieo, you'll increase efficiency while mitigating risk with:

AI-powered search
Save hundreds of hours researching peers. Use artificial intelligence and machine learning with AI-driven DocSearch that is optimized for financial data, documents, and the language of filings.
Real-time insights
Never miss a material insight from a peer with watchlists, alerts, and saved searches. Be notified instantly when a new insight is published that matches your criteria.
Collaborative research
Deliver more complete peer research. Track, share, and collaborate with integrated notes and tools for redlining and data visualization.
Together, Workiva and Sentieo streamline the reporting and research process, so external reporting teams can deliver a complete story that fuels investor confidence in less time.
Confidence in your numbers. Confidence in your narratives.
Search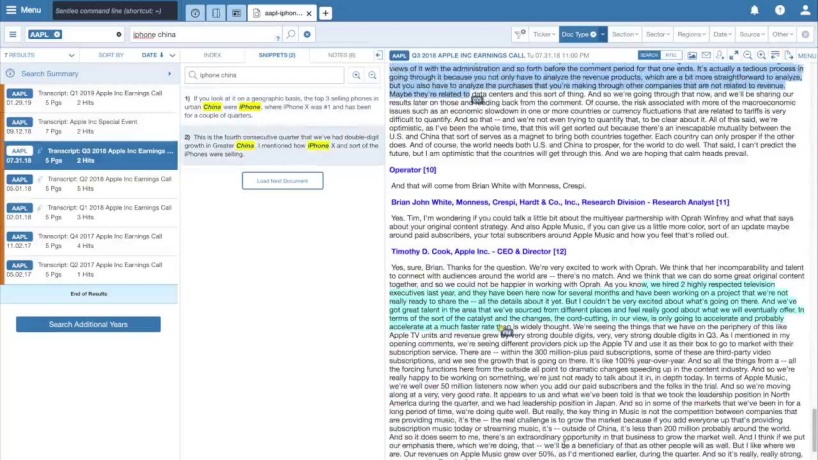 AI-powered financial search engine
In a single click, search for any text through our exhaustive database of financial documents.
Search using our powerful finance natural language processing and synonym library
View text previews, and jump to relevant passages across multiple documents
Sources include SEC filings and investor presentations
Analysis
Goodbye, data entry 
The Sentieo Table Explorer tool uses a machine-learning approach validated by trained financial analysts, so you can:  
Quickly plot discrete line items in the same window, enabling simple thesis exploration either as a complement or antecedent to further model work
Start with any table in a 10-K or 10-Q, select the fields you are interested in, and Sentieo will automatically create 5+ years of time series history for those fields
Use inline calculations to impute fourth-quarter numbers from 10-K data, common size analysis, and year-over-year or quarter-over-quarter percentage changes
Watchlists
Watchlists you can build from your search results
Never miss another filing, comment, or trend. Sentieo keeps you in the know with:
Email and mobile push notifications for new filings on the companies you care about
Watchlists you can screen and build from your search results
Notifications from saved searches when a new document matches your criteria
Annotation
Manage and share your research
Sentieo makes it easy to manage your research with tools that allow you to:
Highlight and annotate any passage or table to be automatically tagged and stored in your research notebook
Label passages with customizable labels for easy recall and organization
Share any document, note, or highlight with colleagues in a single click
Centralization
Bring in your documents
Streamline your research using a single source for all your information. With Sentieo, you can:
Email in any document or attachment to automatically add it into your document search database
Use our web clipper to grab any website or article to make it available in your research notebook and document search
Sync with Evernote, OneNote, Box, and Dropbox to automatically add content from these platforms into your document search