STATUTORY REPORTING SOFTWARE
Local control. Global visibility. One platform.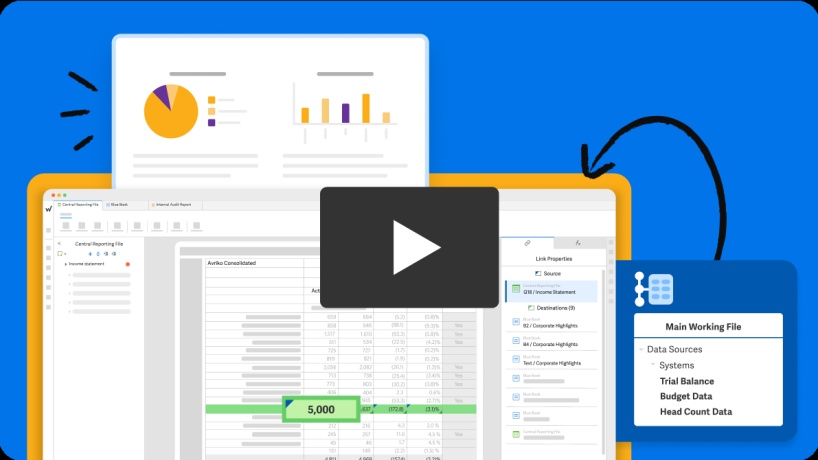 Thousands of organisations are transforming the way they work.
GLOBAL STATUTORY COMPLIANCE
Stay in control of your financial reports.
With Workiva, you can streamline and standardise corporate and local level statutory reports in one central platform that provides the visibility and consistency controllers crave. Reduce risk while gaining transparency, traceability, and control of financial and non-financial data across dozens of legal entities and subsidiaries—with embedded translation capabilities to ease collaboration across borders.
Data consistency
Automatically connect data from source systems to our statutory reporting platform, which serves as a single source of truth so everyone has the latest information.
Global visibility
From a single dashboard, track the status of statutory reports by business unit or legal entity to see what's on schedule and what's at risk. 
Controlled collaboration
Be ready for growth with an agile reporting infrastructure that adapts to your needs and reduces duplicative work for tax, ESG and financial reporting teams.
Standardise data collection and transformation
Standardise data collection and transformation
Workiva helps teams spend less time chasing the same data and more time focusing on meeting local statutory reporting requirements. Share data across teams for compliance with mandates, including the CSRD and Country-By-Country Reporting Directive in the European Union.
Connect ERP and consolidation tools to the Workiva platform to automatically pull ledger data into global statutory reports

Collaborate in the cloud, so everyone has access to the most recent version 

Build reusable templates to bring consistency to financial statements

Roll forward easily from one reporting period to the next with less copying and pasting

Add XBRL® tags to critical data points without leaving the platform
XBRL® is a trademark of XBRL International, Inc. All rights reserved. The XBRL® standards are open and freely licensed by way of the XBRL International License Agreement.
Localise when needed
Localise when needed
Make sure teams are in compliance with statutory reporting regulations in local jurisdictions while staying connected to the home office.
Monitor the status of statutory reports by entity from one dashboard that enables you to drill down to access local documents

Streamline workflows with entity-specific checklists of statutory reporting procedures, with owners, reviewers, approvers and due dates assigned

Link data across tables and footnote narrative to ensure data integrity and accuracy

Turn on translation capabilities to facilitate reviews by a home office, corporate headquarters or shared service center 

The Workiva platform automatically accounts for local differences like language and currency
Simplify audits and reviews
Simplify audits and reviews
Shave hours from the review cycle with features that make it easier to trust your data.
By linking common data across global statutory reports, your reviewers can trace information back to the source

Attach supporting evidence to spreadsheet cells or paragraphs where support is needed

Insert comment threads where teams can ask and answer questions directly within the document instead of buried in email chains

Control who has access to edit a specific spreadsheet cell or tab, section of a document or slide within a presentation

Click a button to see an automatic audit trail of revisions, and toggle on an overlay to quickly see who made those changes

Use blacklines to quickly compare what has changed between two points in time
RELATED SOLUTIONS
Don't stop there. Simplify more with Workiva.
See how Fexco saved 1,000 hours in 12 weeks.
There's a reason this fintech's search for statutory reporting software ended at Workiva.
Tap into our partner network.
Yep, the technology is pretty amazing. But there's a whole family of resources here to tailor for your specific needs.
The reviews are in—users love our accounting and finance platform.
G2 ranked Workiva a leader in accounting & finance platforms, and users agree. Learn why customers love our connected platform.
Some statutory reporting software resources you may like: