Audit & Risk Teams
The only platform that connects GRC with ESG and financial reporting.
Gain stakeholder trust, tackle new and emerging risks like ESG, and secure your seat at the table.
Stay ahead of emerging risks.
Connect your governance, risk, and compliance (GRC) processes with your financial and environmental, social, and governance (ESG) reporting to get invaluable oversight across the business. With everything in a single, audit-ready cloud platform, you can establish effective governance with integrated controls and proactively manage risk.
Connect and Collaborate
Increase trust and transparency
Create alignment across accounting, finance, HR, legal, ESG—and even external auditors—with centralized collaboration and a single source of truth. Set role-based permissions and easily capture feedback on changing processes with certifications and direct commenting. Provide visibility into audit status, issue remediation, and outstanding tasks with real-time dashboards.
Automate Repetitive Tasks
Save time and focus on value-added work
Send out evidence requests automatically and attach to tests or workpapers. With data that's always connected to your sources—yes, always—updates happen automatically everywhere it's linked. Spend less time on manual tasks and more time on what counts: advising the business.
Provide Real-Time Assurance
Drive smarter decisions with insights on demand
Optimize risk guidance with faster and more meaningful insights.
 With connected data and up-to-the-second dashboards, your team can get better insights quickly to make smarter business decisions. Implement continuous monitoring and feel confident in your data with powerful, built-in audit analytics.
Connect GRC with ESG and financial reporting to simplify work.
Achieve assurance across it all. Bring risk, control, and ESG information together to increase cross-team collaboration and transparency.
Audit & Risk Management Solutions
The platform that puts flexibility first.
A platform so powerful it adapts to your processes—not the other way around. Our fit-for-purpose solutions are tailored to meet your needs now and scale with you. Plus, with 3,000+ ready-to-use templates, you can jump-start new audits or risk assessments with ease.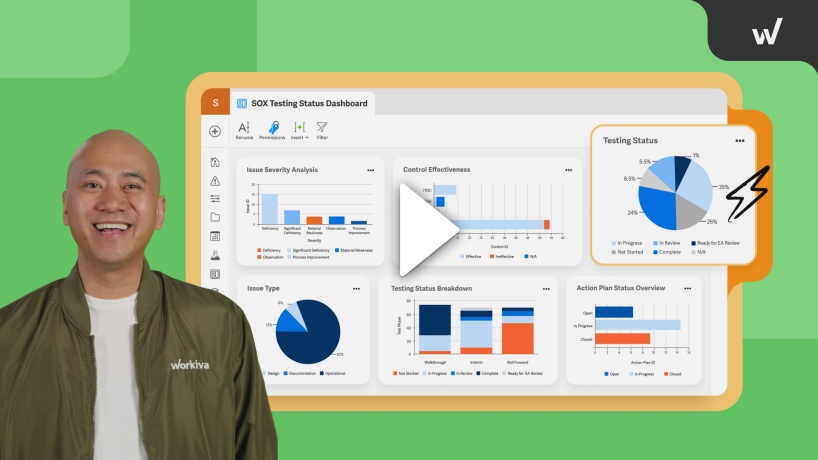 Demo the Workiva Platform for Audit and Risk Teams
Wish there was a simpler way to manage your audit and risk team's work? Join us for a monthly demonstration of the Workiva platform to see why customers trust us with their most complex work.
The Auditors' Playbook: Adopting Analytics
Want to introduce audit analytics to your internal audit function, but not sure how to get buy-in from decision makers? Here's how to tackle the five common adoption hurdles.
SOX & Internal Controls Professionals Group
This online community fosters networking, promotes industry thought leadership, and provides opportunities for members to share GRC best practices.
Elevate your GRC strategy.
Take your processes and technology to the next level with respected partners.