FINANCIAL STATEMENT AUTOMATION
Update financial statements automatically with connected data.
Simplify the monthly financial statement grind with the Workiva platform—automate tedious tasks and let the real work begin.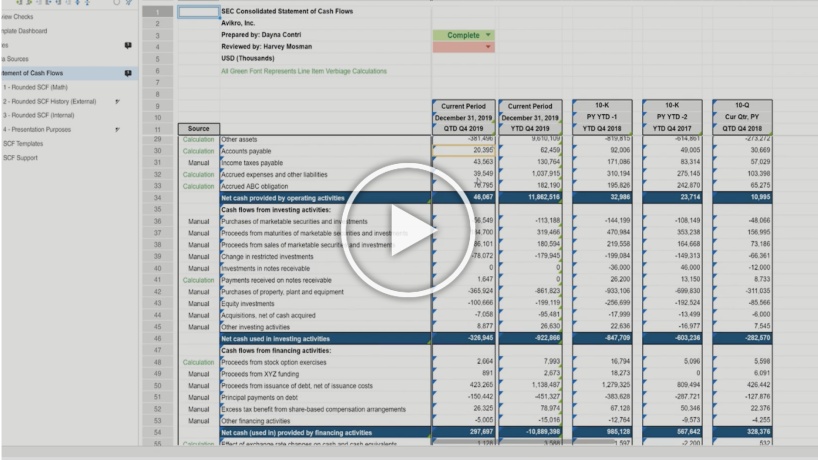 Stop wasting your time collecting data, and start connecting data with the Workiva platform. Map your accounts from multiple systems, entities, or ledgers to a single spreadsheet so everything comes together cleanly—and automatically. Clean and transform data to assemble monthly and quarterly financial statements. Refresh your connected data and see updates everywhere in seconds, with every change.
Connect data, instead of just collecting data
Increase accuracy and consistency with data connected directly to your statements from your systems and sources. No more copy and paste headaches or death by data gathering.
Streamline your data prep all in one place
Everything is in one location, making it easy to prepare, summarize, and slice from millions of rows of data instantly. Plus, do it all as a team, at the same time, and in a single place.
One-click updates, real-time data
With a single click, changes in data can be automatically updated across all reports in seconds—including any last-minute edits to numbers and text.
Reliable, up-to-date data when you need it
Reliable, up-to-date data when you need it
Reduce risk of error and have a single source of truth across your data by connecting directly to your ERPs, general ledgers, and other sources. Flow the information from your income statements and balance sheets into your statement of cash flows and all the analysis that depends on it.
In addition, with automated audit trails, you'll get complete visibility into where your data came from—and where else it's used.
Data and commentary gathering made easy
Data and commentary gathering made easy
Pull data from any system or source, and decide how it should be configured as part of the financial statements. Collect and aggregate data and supporting commentary from all collaborators, all in the same platform.
Right people, right place, right permissions
Right people, right place, right permissions
Assign edit or view-only access to contributors—as well as internal and external stakeholders—down to individual cells, slides, and sections. Stop worrying about unseen changes, and get full visibility into who made what change and when across the entire life of financial statements.
Less stress each cycle
Less stress each cycle
Eliminate common causes of errors, such as copying and pasting across docs and passing around outdated versions. Shorten reviews, keep the team happy, and sleep easier at night. With data connected to your sources and systems, last-minute edits to numbers and text flow through all your reports within seconds automatically.
Have confidence in your data and commentary knowing your reporting is connected in a single location.
RELATED SOLUTIONS
Explore more ways Workiva can help.
It's estimated that the Workiva platform has already saved us a week in our annual reporting process. At the busiest time of year for finance, that's huge.
David Conley
Head of Reporting
Challenger Limited
The complete traceability of data and digital audit trail down to a cell level, coupled with real time changes, gives us the visibility to update and provide transparency in our reporting.
Rhuina Niña Lape
Financial Consolidation and Reporting Supervisor
Aboitiz Power Corporation
Previous
Next
Thousands of organizations are transforming the way they work.
More ways to get the most from our platform.
6 min read
Monthly income statements and balance sheets drive every other report and presentation down the line, so one misstep can slow down the entire team. Here's how to accelerate the preparation of these key financial statements so you can jumpstart analysis.