INTERNAL CONTROLS MANAGEMENT
Transform internal controls design, testing, and reporting.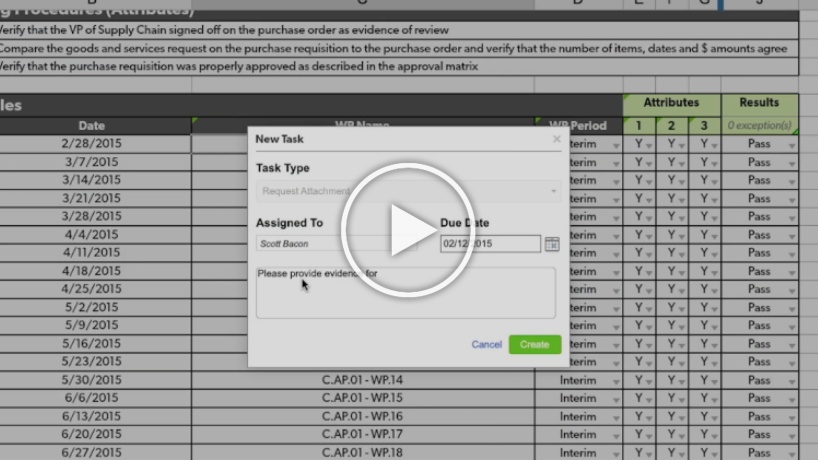 Connect risk and control information across your enterprise or agency. Achieve greater efficiency and transparency with Workiva.
Modernize Your Scoping and Risk Assessment Process
Modernize your scoping and risk assessment process
Increase transparency of information in a single, scalable environment. Accelerate decisions during the planning period to determine scope for testing for various requirements, including Sarbanes-Oxley compliance.
Leverage a common framework for risk and controls
Add or update risks and controls without disrupting your process
Communicate without email on integrated comments and workflow
Save time by collecting, aggregating, and reporting on all risks in a single platform
Enable control owners to make updates directly to the RCM, all with full visibility and approval by your team
Ensure Consistent Data Across Documentation
Ensure consistent data across documentation
Create a central repository of internal controls to drive instant updates to process narratives and flowcharts as changes are made.
Streamline internal control design
Collaborate in real time with directed comments and tasking features
Link your RCM data fields to narratives and flowcharts
Track history of changes made to documents with a complete audit trail
Grant role-based permissions to process owners, control owners, and audit teams
Integration with Microsoft Office 365® allows for access, review, and recalculations of files in native formats without downloading files
Office 365 is a registered trademark of Microsoft Corporation in the United States and/or other countries.
End-To-End Testing in a Single Platform
End-to-end testing in a single platform
Built-in workflow automates evidence collection and control testing. Manage supporting evidence requests, and track responses and approvals with a real-time dashboard.
Optimize your testing workflow, and increase transparency
Monitor progress, and stay on schedule with time tracking
Attach samples directly to testing sheets, annotate, and communicate test findings
Optimize testing with random sampling via single or bulk tasks
Simplify markup with drag-and-drop annotations
Easy, guided roll forward process
Create Dynamic and Informative Reports and Dashboards
Create dynamic and informative reports and dashboards
Risk intelligence at your fingertips. Gain line of sight into your program, and guarantee accurate reporting to stakeholders across your organization or agency.
Deliver in-depth and real-time data
Views driven by live data, such as issues tracking, status reporting, COSO mapping, and more
Create personalized and ad hoc reports
Drill down into supporting data for dashboards and reports
Deliver data directly to business owners via user-centric reports
Automate the Certification Process
Automate the certification process
Meet deadlines and improve compliance. Establish a connected, repeatable process that is efficient, timely, and transparent.
Built-in sign-off and certification
Customize certifications to your company's or agency's workflow and deadlines
Personalize views for stakeholders to receive and validate controls and sign letters
Leverage letter templates, schedule reminders, and increase process visibility with robust tracking
Empower signers and approvers to review, attach support, and sign off from any device
Workiva Established as A Leader in the Forrester Wave™
When evaluated among 15 vendors, Workiva received the highest score possible in the criteria of audit management, interoperability (integrations), planned enhancements, and vision.
Related Solutions
Find out what else you can do with Workiva
More ways to get the most from our platform.
Uncover the current state of SOX and internal control processes and the top challenges for the year ahead. This benchmark report covers various topics to help gauge how your company stacks up against the competition.
Find your next favorite thing.
Check out the Workiva Marketplace for easy-to-use templates, connectors, and services that make getting started a snap.