FINANCIAL CLOSE REPORTING
Modernize the financial close process.
Streamline internal and external reports to deliver faster, more accurate financial statements with connected data.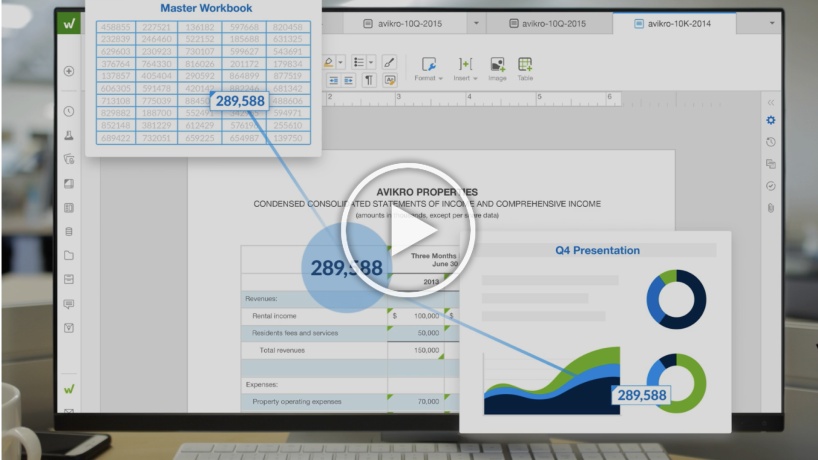 Connect directly to data sources
Connect directly to data sources
Replace manual financial close processes, and eliminate the security risk of uncontrolled desktop spreadsheets in your financial reporting. Have confidence in your final numbers with version control and a comprehensive audit trail that starts at the data source.
Centralize data from multiple sources
Unify financial data with nonfinancial data, such as operational metrics, in a controlled cloud environment for more comprehensive reporting.
Pre-configured connectors enable the import of data from multiple accounting and financial systems into Workiva solutions. Connect structured data from traditional sources like ERP systems or general ledgers, as well as unstructured data from spreadsheets, documents, and emails.
Simplify data and commentary collection
Create consistency for your reporting outputs. Automate data collection from departmental stakeholders during the close cycle with flexible templates.
Normalize your data from different areas of the business, without having to worry about reformatting. Templates can be used for both unstructured and structured data, making real-time updates and roll forward to the next report easy.
Link numbers and narrative
Link numbers and narrative
Turn your collected data and commentary into complex financial reports. Connect data from the accounting close to financial statements, board reports, and executive presentations.
Data and narrative in a single cloud platform
With connected data and analysis, you can quickly build a consistent, cohesive story to present to management, investors, stakeholders, and the board.
Eliminate tedious, time-consuming tasks of collecting data from the period end close for financial forecasting and reporting. Rely on a repeatable framework that can easily be rolled forward, creating time for more financial planning and analysis (FP&A). Shorten the time to insight, and play a larger role in business decisions.
Streamlined analysis based on reliable data
Trust your numbers. By using Workiva as part of your close management process, you can link between source data and destinations throughout multiple documents and presentations, including:
Consolidated trial balance
Financial statement analysis
Variance/flux analysis
Actuals vs. forecast analysis
Schedules and roll forwards
Accruals and estimates
Dashboarding and status monitoring
If the source changes, every linked instance updates at the same time. Reduce the risk of errors, and track every change with a full audit trail. Use blacklines to compare versions.
Increase efficiency across the organization
Increase efficiency across the organization
Collaborate across teams to draft financial, management, and board reports in the cloud—in real time, with no version control issues.
Expanded reporting teams
Connect contributors across the broader finance function, such as FP&A or tax, to create a holistic reporting environment for monthly, quarterly, and yearly financial reporting. Control access and increase transparency to the reporting process to reduce errors and increase efficiency.
Workiva enables you to manage the collecting and collating of narratives, sourcing data, controlling structure and format, and managing multiple cycles of edits and approvals, all within a single, secure, and easy-to-use cloud platform.
Real-time collaboration
Work with your teams in the same document, at the same time. Role-based permissions enable report owners to control who can access, view, and edit data and text.
Communicate within the platform to track feedback, reduce back-and-forth during editing, and shorten turnaround times.
Deliver timely, trusted reports to stakeholders
Deliver timely, trusted reports to stakeholders
Create presentation-ready financial reports for business leaders, investors, and the board of directors. Streamline the review process and provide visibility into changes, comments, and feedback securely within the Workiva platform.
Flexible report production and delivery
Easily create high-quality financial reports, board books, and presentations in the format that works best for your team—in spreadsheet, document, dashboard, or slide form. Leverage mobile apps for report review and commenting. Manage reviews, approvals, and final sign-offs all on the same document.
Create a wide range of reports for stakeholders, including:
Management reports
Business unit reports
KPI/QMI/Flash reports
Period and scenario packages
Board of director reports
Improved decision making
Deliver robust financial reports filled with dynamic charts, tables, and source data linked from multiple enterprise systems and spreadsheets.
Workiva enables you to unify and prepare data with queries, contextual tagging, and filters. Attach supporting documentation to specific values in your quarterly and annual reports and other financial disclosures, or request documentation from colleagues. Annotate and tie out financial statements and workpapers.
RELATED SOLUTIONS
Find out what else you can do with Workiva
It's estimated that the Workiva platform has already saved us a week in our annual reporting process. At the busiest time of year for finance, that's huge.
David Conley
Head of Reporting
Challenger Limited
The complete traceability of data and digital audit trail down to a cell level, coupled with real time changes, gives us the visibility to update and provide transparency in our reporting.
Rhuina Niña Lape
Financial Consolidation and Reporting Supervisor
Aboitiz Power Corporation
Previous
Next
More ways to get the most from our platform.
Webinar On Demand
How to Maximize the Value of Your Finance Ecosystem
Using a mix of legacy on-premises systems and modern cloud technologies, finance teams can struggle to meet the demands of delivering strategic insights quickly and consistently. Join Workiva and Clearsulting as they discuss key principles for investing in systems to give you a 360 degree view of the finance function.
Webinar On Demand
Future of Finance: Disrupting the Finance Function
The role of today's CFO extends well beyond the traditional finance function. Listen to this on-demand webinar to learn how you can drive innovation within your organization, and hear real-life examples of how to put it into action.
White Paper
Evaluating Your Finance Transformation Program During a Pandemic
CFOs managing the immediate challenges posed by COVID-19 may be shifting their focus away from finance transformation initiatives. Gartner has identified four recommendations for optimizing transformation programs during this time of upheaval. Read the report.
Find your next favorite thing.
Check out the Workiva Marketplace for easy-to-use templates, connectors, and services that make getting started a snap.